MeCount Analytics
Powered By

What makes Matomo a premium web analytics tool?
Matomo's full range of features allows you to evaluate the entire user-journey of everyone who visits your website. There is no other tool that offers such a complete range of features like Matomo Analytics which includes: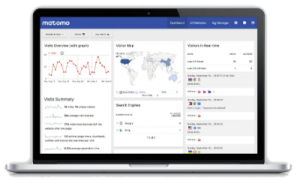 ✔ No Data Sampling
✔ Features unique to Matomo including:
✓ Media Analytics
✓ Content Interactions
✓ Transitions
✓ Row Evolution and many more
✔ Conversion Optimization features (see below)
✔ Visitor Profiles (see below)
✔ Enhanced SEO (see below)
✔ Ecommerce
✔ Custom Reporting
✔ Campaign Tracking
✔ Roll-Up Reporting – combine reporting from multiple websites
✔ White Label – bring in your branding across your interface and reports
✔ All the standard metrics you'd expect from a quality web analytics tool!
To find out more about getting your site added to Matomo at MeCount please contact us
Your can login to your MeCount Matomo Account Here